Goodyear


This traditional type of construction, also called Zwiegenäht, Roccia, Epler or Norwegian , is a guarantee for a long life for most heavy mountain styles. The heavy upper leather is stitched together with the special insole through a first stitching (Norwegian type). A second stitching holds together the midsole. The flex control is improved by a steel or carbon shank incorporated in the midsole in this way no additional thickness of the sole unit is necessary. Stitchings are not always visible as a rubber rand may cover them.


Ideal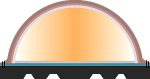 A traditional construction is represented by Ideal stitching, which can be single or double. The upper is stitched together with the midsole by a vertical stitching. The insole is not sewn in as with Goodyear stitching. On traditional styles this produces very good results and has the advantage of making the boots easy to resole. A medium flex of the midsole is obtained by using a reinforced leather midsole.

Trekking Ago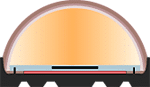 An innovative construction method that combines the usual "scatola-box" method with the application of a rubber rand that improves the lateral protection. The choice of soles is very wide and it is possible to combine traditional sole patterns with specially developed rubber body which results in a sole unit that offers the advantages of a rubber rand and the ability to resole the boots easily.

Ago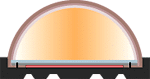 A very common construction method that has the main application on light trekking boots and mountain bike shoes. The upper is folded internally and nailed to the midsole which is then glued together to the outsole. It is still a method that uses a last and allows style which offers protection and stiffness to the uppers.

Strobel - Comfort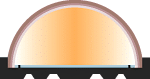 This construction finds wide application at the more economical end of the trekking styles and is achieved by stitching the insole together with the upper and glueing this "sock" to the outsole. This results in a very light and flexible boot but the negative side is in a poor torsional stability and flex. For the casual user it has the benefits of having a level of comfort more akin to a street shoe than to a mountain boot.