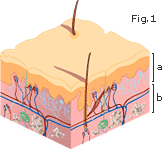 Leather is the first choice of upper material forwet conditions. For mountain boots tanners use only south German bull hides as only hides of adult animals of this origin have the required thickness. These hides can be split into two layers. Grain leather (ref a of fig. 1) is the outer surface of the hide and is the toughest and most water resistant as it has very close cell structure which already has a natural water resistance and strength. The inner surface is split leather (ref b of fig 1), generally used to make suede, Baycast and other more economical leather types.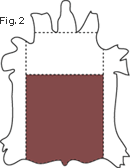 Not all parts of the hide can be used for making mountain boots due to different thicknesses and consistency of the hide. Only the butt area is used (fig. 2) All types of leather can be treated for water repellency during the tanning process but all tough leathers should still be treated during use of the boots to maintain or restore water resistance. This should be done by waxing them with the correct natural waxes. Synthetic waxes can soften the structure of the leather and make your boots too soft.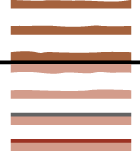 The hide is split in two layers.
From the upper part we obtain grain leather, from the inner surface split leather.
Grain leather can be left natural and this gives Full Grain Leather.
If the surface is specially buffed to give it a velvety finish we obtain Nubuck Leather. Split leather can be shaved to obtain suede or coated with polyurethane to obtain a coated leather or also treated with finishing products to give the split leather all kinds of different characteristics.