The lining is the part of the boot which makes contact with the foot so it has an important role to play in the boots comfort. Whether it is leather, fabric or a synthetic waterproofing layer the lining must keep dry and ensure a comfortable fit, holding the foot so that it does not move causing blistering.
Leather ensures a very long lifetime and is soft to wear. Synthetic materials improve the water resistance of the upper material but are not always as miraculous as promised!
On the more technical styles you will find integrated belows designed to keep debris out of the boot . The bellows are lined with a special PU coated fabric to provide protection against water penetration in an area at greatest risk when there is no lining material. On Sympatex® lined boots the lining also covers the bellows and ensures the water repellency.
Sympatex


Sympatex® is a lightweight, ultra-thin, non-porous polyester membrane that is totally waterproof, totally windproof, and highly breathable. It is invisibly sewn between the lining and the outer material of footwear.
To learn more abouth it…

WaterStop

WaterStop is a waterproof membrane laminated between the lining and the upper of this footwear.
WS is breathable and has high insulation capacity.
These propreties of total comfort are maintained even at low temperatures to ensure to keep your feet warm and dry.


Leather

Using natural Calf leather is a traditional way of lining mountain boots. Leather ensures a very long life span and is soft to wear, leather has also the advantage of allowing natural transpiration and offers a thermic capacity combined with a reasonable resistance against water penetration. In the front part of the boots normally split leather is used to offer improved breathability.


Cambrelle is a woven, abrasion resistant and water-resistant lining made of a breathable synthetic fibre with a particular structure that has a high capacity to wick moisture away from the foot, maintaining the feet dry. Its particular structure ensures a long life-span and resists mildew and is rot proof.
Cambrelle® is a registered Trademark of DuPont.

DRI-point
Is an Hydrophilic fibre that keep the foot dry and this fabric has a high capacity to expel transpiration. The inner part maintains the foot dry, cool and comfortable. The Hydrophilic fabric absorbs and eliminates rapidly the transpiration of the foot.




Thinsulate™ Insulation for footwear was developed specifically to solve the rather thorny problems of insulating boots and shoes. These problems being, specifically, limited space, the need for lightness, and the tendency for most insulations to be rendered ineffective by Compression. Thinsulate™ insulation may very well be the ideal insulating material for footwear. It's thin to eliminate bulkiness. It's effective to maximize warmth. It's light to minimize weight. And, perhaps most important, it's compression-resistant to take a pounding. Thinsulate™ is a registered Trademark of 3M.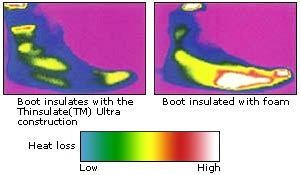 Hotty


This felt compound made up of 3 layers can retain most of the heat transmitted by the feet due to the special proprieties of its fibres:
The polypropylene fibre does not absorb moisture from outside the boot and dries quickly. The propriety of the Aluminium layer are in its ability to form a barrier and reflect heat back to the foot creating a thermal break. The wool has a shock absorbing effect.
Using bauxite, a natural hydrate of aluminium as an inter layer makes it possible to obtain a high degree of insulation and thermal protection for comfort at low temperatures.

^ top